The body speaks in sensations. It is the spontaneous warmth on your face when your favorite person walks into the room. The fluttering butterflies in your stomach when you fall in love or stand on the edge of a new adventure. It is the lightness in your step when the world feels just right and your heart shines with happiness.
It is also the pain that greets you every morning when you wake up. The racing of your heart that refuses to let up. The heaviness that has settled in your chest. Or the unsettling emptiness that holds you in its cold grip when you yearn for the warmth of connection.
Our bodies are always articulating the deeper truths that reside within us.
Do you know how to tune into the secret language under your skin, the one that speaks of the moments you have lived through and whispers the score of all you carry?
Do you know how to heal yourself by listening to the body, meeting it with reverence and honoring its wisdom?
Are you ready to listen?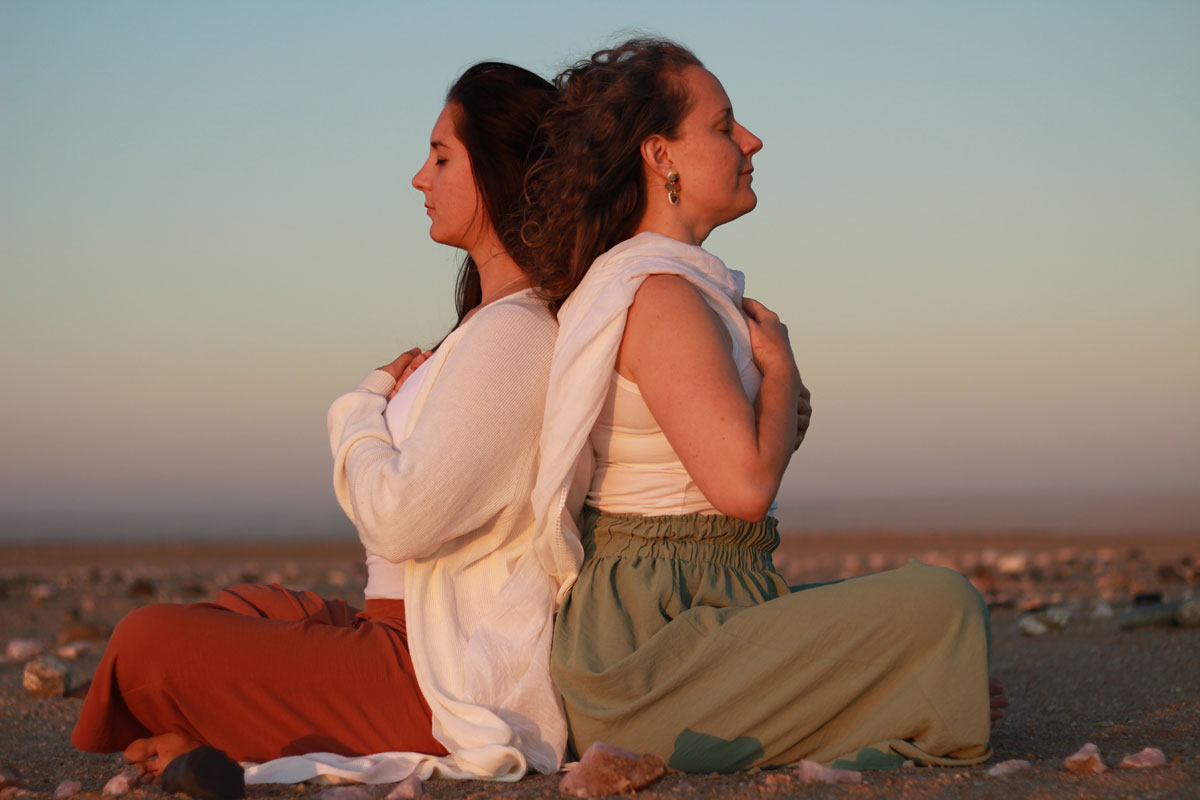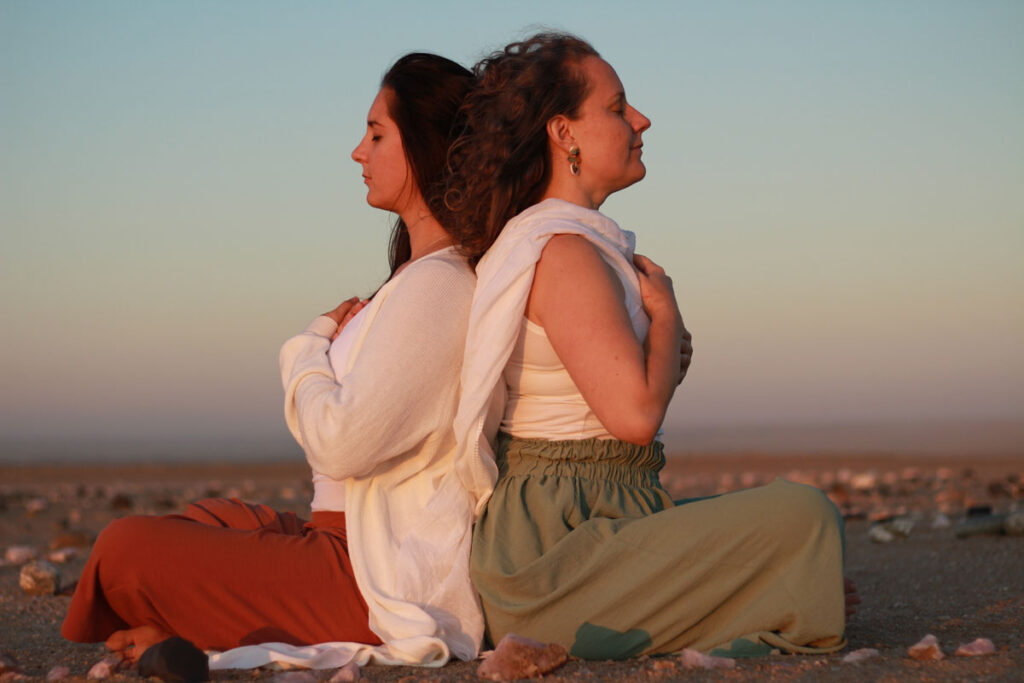 Your body is the wisest presence in the room. It knows what it needs & what is best for its own healing. Learn to cultivate a powerful healing practice to honor this voice and be guided by it.
This retreat is a deep dive immersion that blends together the latest scientific insight of how the body & nervous system shape our experience of mental & physical health together with the practical 'how to' to equip yourself as your own healer through cultivating an open channel of communication with your body.
Join Liezl & Sybille on this 5-day transformative retreat in the Bwabwata National Park in the East Zambezi Region of Namibia, that will help you become your own body whisperer & an active participant on your journey of healing.
Together we will unravel the net of distraction & resistance woven around our awareness to instead start finding the soft whisper of our body's need underneath all. We'll explore intuitive movement, embodied expression, intimate breath and compassionate touch as tools of communication to come home to our own voice of wisdom. You will learn to honor the unique kind of healing and care you need to feel more lightness, freedom, inspiration and peace in your body, heart & mind.
Dusty and Tinolla will be your hosts, together with their experienced team and Liezl & Sybille as your facilitators, for a life-changing retreat against the grandeur of this pristine natural environment.
We invite you to immerse yourself into a sphere of healing energy at Nambwa Tented Lodge nestled high amongst majestic trees, honoring the elephants' right of way below. An authentic walkway joins ten decadently spacious tented suites, which emanate a feeling of vastness and evoke a gentle balance of serenity.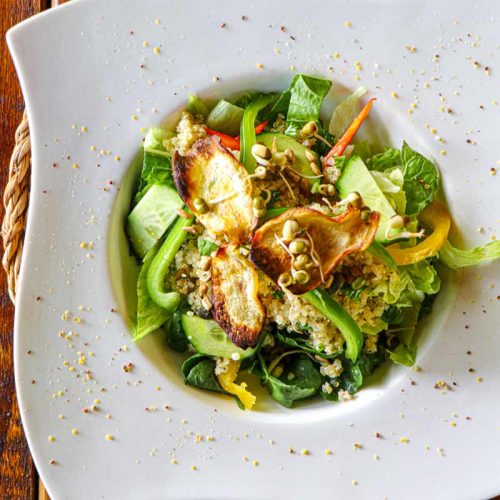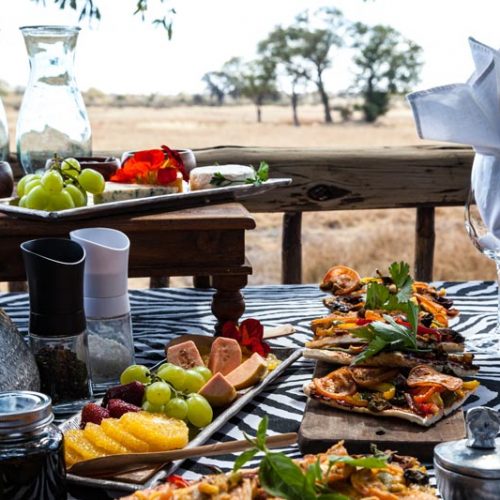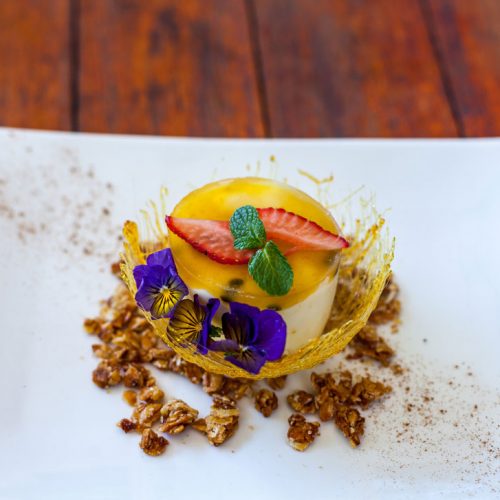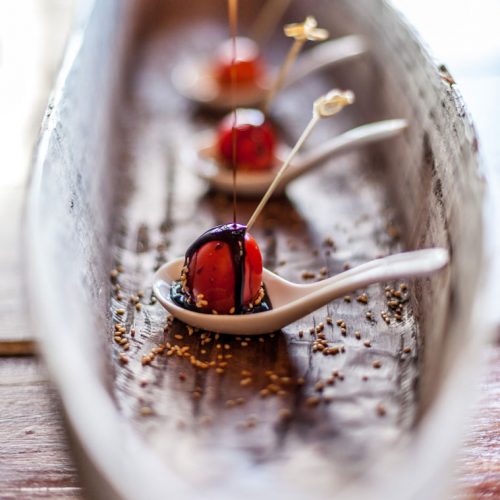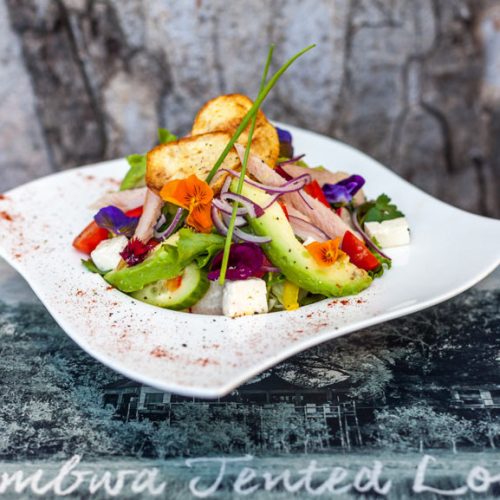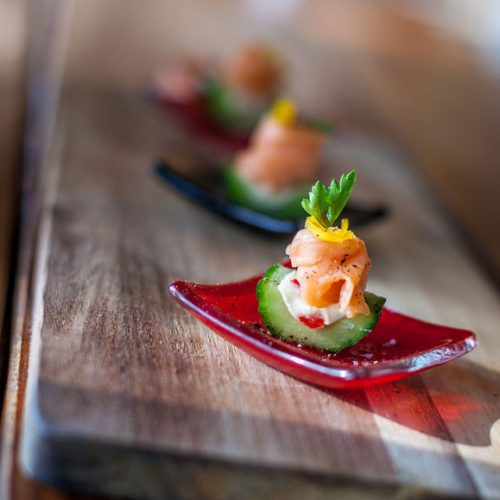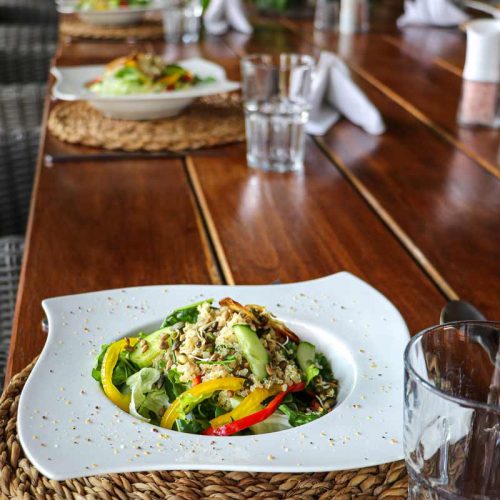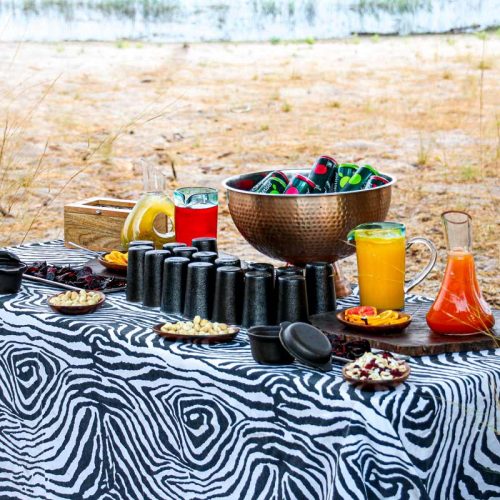 We are here to create a transformational safari experience that focuses on actively improving your wellbeing with deliberate & thoughtful touches in all we do. One of the areas where we really show our commitment to creating a healing space is in our daily meals. During the retreat we ensure our menus are supportive of the eating ethos of healing body and nervous system.
Our fresh ingredients are sourced from The Sijwa Project, our sustainable conservation project located along the banks of the Kwando river, where we pride ourselves with the strict Permaculture principles followed from planting to harvesting. Meal times will allow you to savour lavish nourishing food prepared fresh daily. We are also happy to cater to your specific dietary requirements, please advise our reservation consultants upon booking.
Our retreat meal plans could be based on either of the below:
Vegan
Vegetarian
Pegan
Fasting
Keto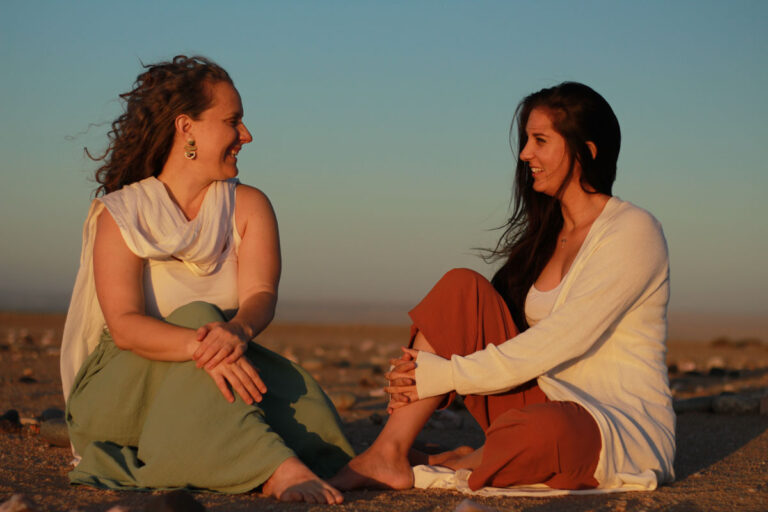 I have a deep love & reverence for where science meets the spiritual, or simply our experience of this life. For the last decade I have been honing my skills as yoga instructor & embodiment coach, specializing in a therapeutic approach to the practice that honors all bodies and all minds. I have completed over 1200 hours in training that spans traditional styles of yoga as well as in-depth understanding of anatomy & physiology, psychology, pre-natal and trauma-informed approaches. My earliest training experiences in India ignited a flame for cultivating the sacred heart of the practice in all I share.
In the last two years, in the wake of covid & traumatic personal experiences that left me disconnected and in very real physical & emotional pain, I began to explore trauma release through various modalities including dance, art therapy & compassionate body work. This allowed me to delve deeper into the intricacies of how the human mind, heart and body work together. In all of these practices I have found the integration that allows one to live in greater connection to oneself & others, as well as the opportunity to heal not just the physical body but also the story of who you are.
I have been a practicing physiotherapist since 2011, but it was not until my first fascia course in 2016 with Dr Willie Fourie that my love for all things physical medicine was awakened on a deeper level. I discovered that the way my hands wanted to touch intuitively was right all along, and that this new, gentler and more holistic touch was the way of the future in physical medicine. Since, I have attended several courses to nourish my fascination.
In 2019, I studied with world-renowned fascia gurus Tom Myers, Sharon Wheeler, Lauren Christman & Richard Polishuk. This was a time of great expansion for me and helped me develop my own unique style of working with fascia and scar tissue that brings deeper benefits than traditional manual therapy.
This holistics approach has allowed me to make a difference for people who have been struggling with chronic pain and repetitive inflammation for many years. It has attuned me to how fasciawork influences the nervous system and can help to release old patterns of trauma and emotional holding, to give people a sense of freedom within their bodies beyond the physical.
My vision is to help free people from physical and emotional limitations, allowing them to be more authentically themselves and live from a place of joy instead of restriction. Ultimately, I hope to show people how they can connect to and heal their inner selves through the magic that is fascia.
Everything is professional and done with passion and love ! THANK YOU!
Liezl created a safe space to explore my body and at times difficult emotions. Thank you Liezl! I look forward to being on the mat with you again Moving and breathing with hearts wide open.
Great courses about growth of the inner yogi with beautiful building up. Liezl is a marvelous teacher of the body and the mind.
I enjoyed your serene way of teaching. I felt at ease and receptive. I liked the way you felt comfortable to explore topics even if they are not scheduled for that specific session and I enjoyed the way that you interlinked several topics together. As a participant I felt very comfortable interacting with you as you encouraged me to dig more into your knowledge and inspired me to explore more through my own self study. Looking forward to being mentored by you in the future, as I slowly evolve on my path.
What 'When the Body Speaks' is About:
This journey is one of finding connection to the core of your being and authentic alignment between body & awareness. In the magical treetop kingdom of Nambwa, hidden away from the distractions of the world, you will have the opportunity to connect and learn new ways to weave your healing together through insight, acceptance & compassion.
'When the Body Speaks' is for you if:
When the Body Speaks Retreat
IN NAMIBIA'S PRISTINE WILDERNESS
5 Nights
18 Nov 2022 – 23 Nov 2022
Limited space available, make sure you book your spot now!
this Retreat is Inclusive of: