Authentic Experiences in the Zambezi
Superior standards and unrivalled spaces are equally matched by the detail and attention bestowed on our guests by the staff who are carefully selected from the local communities for their passion for heartfelt personal service. This ensures that all our guests enjoy an extraordinary, unparalleled and true African experience.
Our unquenchable desire to create memorable African experiences takes you on foot, by boat or vehicle, up close and personal with some of the biggest herds of elephants that traverse the largest conservation area in Africa.
African Monarch Lodges, home to Nambwa Tented Lodge and Kazile Island Lodge inside Bwabwata National Park in Namibia's Zambezi Region, is the cumulative product of the passion and dedication of its founders, Dusty and Tinolla. 
Not easy to find lodge in the middle of the nature reserve. Access only via 4WD passage to a hidden clearing where the transfer boat was waiting for us. After... read more a 30-minute boat ride, arrival at the lodge, which is located entirely on 4-6 m high "stilts" and was integrated into a group of trees so as not to impair a given elephant path ....
Perfectly equipped lodge; Bar and terrace with viewing platform and viewpoint on a waterhole - in the middle of the steppe. Luxury tents with open bathtub, separate spacious shower, spacious toilet, dream double bed, own living area and sofa! Heart, what do you want/expect more?
Super attentive, nice, friendly and fast operating staff, who anticipates your every wish. And top food, whether for dinner (really perfect), for breakfast or in the afternoon for "in between".....
.
And also the game drives on water or on land, here we got our money's worth. Too bad - our stay was only planned for 2 nights.....
.
For this lodge clear 10 out of 10 points; Greetings to Christian and Lisa (management), we had a really great time with you, which I/we will look back on fondly. This lodge is something you should experience.

WB_65MR


7 July 2023

Wonderful stay. - Staying here was the absolute highlight of my trip to Namibia. Located in the lesser-known Bwabwata NP, this camp was the perfect spot for both adventure and relaxation. ... read more Even going from my room to the common area was an adventure, passing along an elevated walkway where animals can be and were seen down on the ground going about their business. Game drives in the reserve were outstanding as were boat excursions along the Kwando river. The room was spacious and comfortable. Food was delicious and plentiful. Would love to stay here again!

caseya855


3 June 2023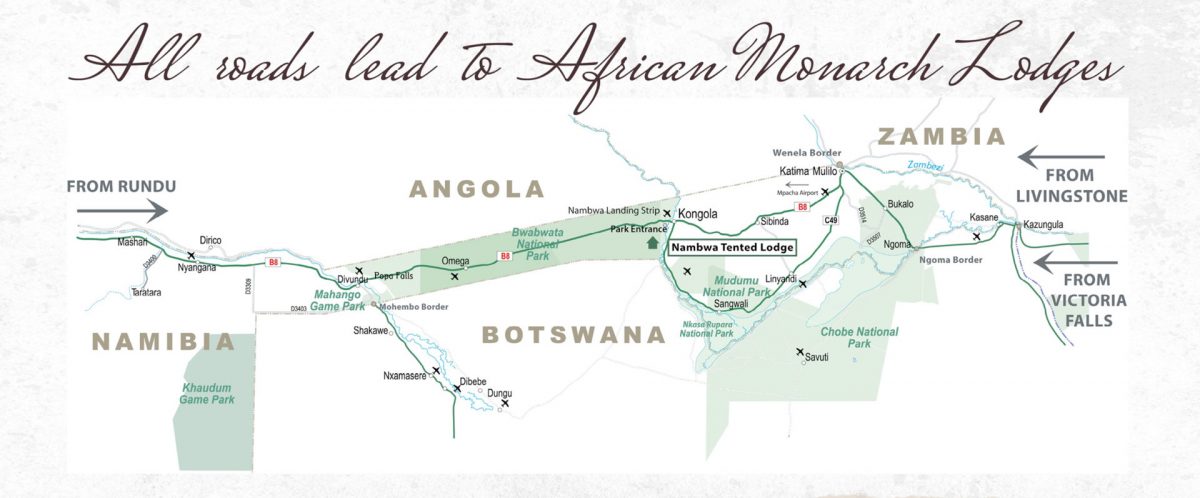 Daily airline flights from Johannesburg & Cape Town to Vic Falls (Zimbabwe), Livingstone (Zambia), Kasane (Botswana)
3 Flights a week from Windhoek to Katima (Sunday, Wednesday and Friday)
We can arrange road transfers from Katima, Kasane, Vic Falls or Livingstone
Vic Falls/Livingstone to our lodge's Boat Station – 3.5 to 4 hours
Kasane to our lodge's Boat Station – 2.5 to 3 hours
Katima to our lodge's Boat Station – 1.5 hours
Our lodges are located 1150 km from Windhoek
Ideal overnight stops enroute are Rundu (440km from our lodges) or Bagani on the Okavango River (200km from our lodges)
Our lodges are only accessible with a 4×4 vehicle.
Various boat cruise or game drive transfer options are available from the main entrance to our lodges
Vehicles can also be parked safely at Kazile Boat Station and from here boat transfers can be booked to either
Nambwa or Kazile
Boat transfers to Nambwa from Kazile Boat Station will take approximately 35 minutes
Boat transfers from Kazile are complimentary and will take approximately 5-10 minutes