Located on ancient elephant migratory routes perched high amongst majestic tree canopies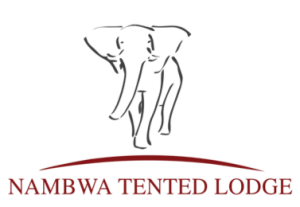 Honouring the elephants' right of way, a timber walkway, towering above these gentle giants, meanders through the trees and joins the ten luxurious tented suites of exquisite comfort. Tastefully decorated with natural colours and evoking a gentle balance of serenity. The decadently spacious tented suites open completely and emanate a feeling of vastness and opulence.
As dawn breaks your morning tea or coffee, together with homemade biscuits, are personally delivered to your tent by your guide. From the privacy of your treehouse deck, watch the sky illuminate with hues of purple and amber and re-energize for the day's adventure ahead.
The main feature, and the heart of the lodge, is the majestic viewing deck, from where your "open to sky" dining, with rewarding views of the floodplains below, are more than often the playground for large herds of elephants, buffalo and plains game that later seek refuge and security under your tented suite for the night.
The elegant Safari Lounge creates a perfect fusion of energy and relaxation, which emphasises a sense of place. A library with a mixture of vintage artefacts and books, as well as small relics found on site while building the lodge on this historical military area, all encourage touch and exploration.
Often, a game drive away from the lodge becomes so unnecessary as the elephants and wildlife meander through the camp. Sundowners are then enjoyed from the safety of the decks or lengthy walkways, only meters above these animals as they traverse below you and go about their feeding.
Not easy to find lodge in the middle of the nature reserve. Access only via 4WD passage to a hidden clearing where the transfer boat was waiting for us. After... read more a 30-minute boat ride, arrival at the lodge, which is located entirely on 4-6 m high "stilts" and was integrated into a group of trees so as not to impair a given elephant path ....
Perfectly equipped lodge; Bar and terrace with viewing platform and viewpoint on a waterhole - in the middle of the steppe. Luxury tents with open bathtub, separate spacious shower, spacious toilet, dream double bed, own living area and sofa! Heart, what do you want/expect more?
Super attentive, nice, friendly and fast operating staff, who anticipates your every wish. And top food, whether for dinner (really perfect), for breakfast or in the afternoon for "in between".....
.
And also the game drives on water or on land, here we got our money's worth. Too bad - our stay was only planned for 2 nights.....
.
For this lodge clear 10 out of 10 points; Greetings to Christian and Lisa (management), we had a really great time with you, which I/we will look back on fondly. This lodge is something you should experience.

WB_65MR


7 July 2023

Wonderful stay. - Staying here was the absolute highlight of my trip to Namibia. Located in the lesser-known Bwabwata NP, this camp was the perfect spot for both adventure and relaxation. ... read more Even going from my room to the common area was an adventure, passing along an elevated walkway where animals can be and were seen down on the ground going about their business. Game drives in the reserve were outstanding as were boat excursions along the Kwando river. The room was spacious and comfortable. Food was delicious and plentiful. Would love to stay here again!

caseya855


3 June 2023