The birth of African Monarch Lodges, like all successful stories, begins with one man's dream. A vision fuelled by passion. This dream led to the establishment of a Joint Venture lodge collection built on the principles of Conservation, Community and Conservancy.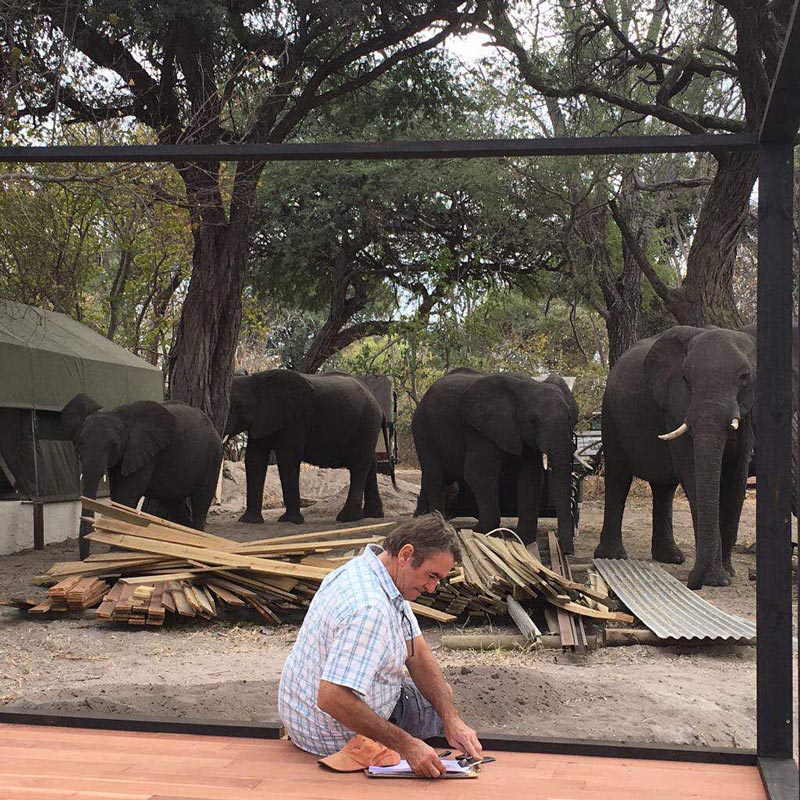 Prior to independence, Nambwa and the whole area of Bwabwata National Park was occupied by the South African Defence Force. People were relocated when the West Caprivi Game Reserve was founded.
Nambwa is part of an area wedged between Angola in the north, Botswana in the south and the Kwando River to the east which used to be known as the Golden Triangle. During Namibia's liberation struggle it was occupied by the South African army. When Bwabwata National Park (replacing the West Caprivi Game Reserve) was proclaimed in 2007, the Golden Triangle became part of it. The Ministry of Environment and Tourism had already made Nambwa available to the Mayuni Conservancy in 2003 to operate a campsite.
Due to its remote location in pristine wilderness and the mega-herds of elephants which traverse the area, the Nambwa Community Campsite became one of the most sought-after campsites in the region.
How african monarch lodges came about
In 2013 the Government of Namibia released three tenders to develop lodges on concessions in the Bwabwata National park. These were to be the only tourism concessions awarded within the park. Chief Mayuni contacted Dusty Rodgers and asked him to tender.

Back in 1998 Dusty had developed the first community campsite at Kubunyana (place of the small hippo) for Chief Mayuni and the Mayuni Conservancy, and thereafter the well-known Susuwe Island Lodge in the same conservancy. It formed one of the first revenue-sharing agreements in the country and the first for the region.
How dusty & chief mayuni met
Dusty first met the chief by chance while camping in the area in 1995. Dusty was driving with a friend toward Horseshoe Bend when a MET vehicle approached from the front. Both cars moved to the side of the road in order to pass one another. Since Dusty and the MET driver, a ranger called Matambo, knew each other they stopped the vehicles door to door for a chat. Next to Matambo sat a smartly dressed elderly gentleman with a broad-brimmed hat. He smilled, looked at Dusty and shouted past the ranger, "Hello, do you know who I am?" Before Dusty could answer the elderly gentleman repeated his question. Dusty frowned and asked in the same stern voice "No…., do you know who I am?" They both laughed and the gentleman said " I am Chief Mayuni, I am the Chief of this area."

Dusty immediately clapped his hands in the traditional way of greeting a Chief, got out of the car, and clapping his hand once again and stating his name as he approached the Chief. When he stood next to him at the car door, Chief Mayuni said, "Ah..,you are Dusty Rodgers from Impalila Island?" Dusty answered, "Yes Sir, I am". Then the Chief said I have heard about you and I will come to visit you on Impalila." Later, during that visit to Impalila, Chief Mayuni invited Dusty to look at his tribal area for an investment opportunity.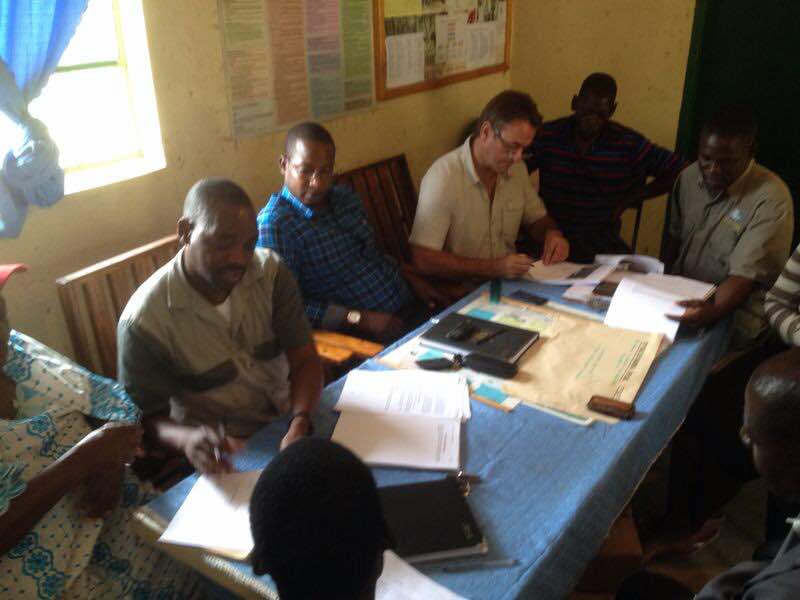 Where the names for the lodges comes from
According to the story that the Chief tells, Nambwa means 'place of the dog'. Nambwa once used to be the home of an acclaimed hunting dog which lived there with its owner long before the site became part of a national park.

Kazile Island Lodge was referred to by the South African Army as 'Paradise Island' and always remained a virgin island until African Monarch Lodges built and opened the Lodge on 21 March 2017, on Namibia's Independence day.
Dusty recruited unskilled labour from the conservancy area and construction work started in March 2014. No contractors or architects were involved – Dusty had the plans in his head. The layout and the tree house concept came about when Dusty climbed each majestic tree in the area to gauge the height of the lodge and the suites. The height was finally determined when a large heard of elephants walked right into camp underneath the tree Dusty was 'hanging' from. He decided that the elephants should always have right of way below.

Due to the condition of the access road everything was brought in by boat in the Kwando River. Each truckload of material delivered on the main road took in excess of twenty boat trips to the lodge site.

Each structure was carefully planned to avoid having to cut any trees or unnecessarily disturb the natural environment or habitat. Dusty and his assistant Juan, who later became Lodge Manager and opened Nambwa, lived on site in dome tents during the construction period. Many a story can be told about their camp fire experiences of visiting elephants opening and overturning cooler boxes, rummaging through their food supplies, of leopards killing numerous warthog, bushbuck and various other antelope in close proximity.

Every night brought different visitors, as lions, wild dogs, hippos, buffalos, leopards, hyenas and many others padded or sauntered through the camp.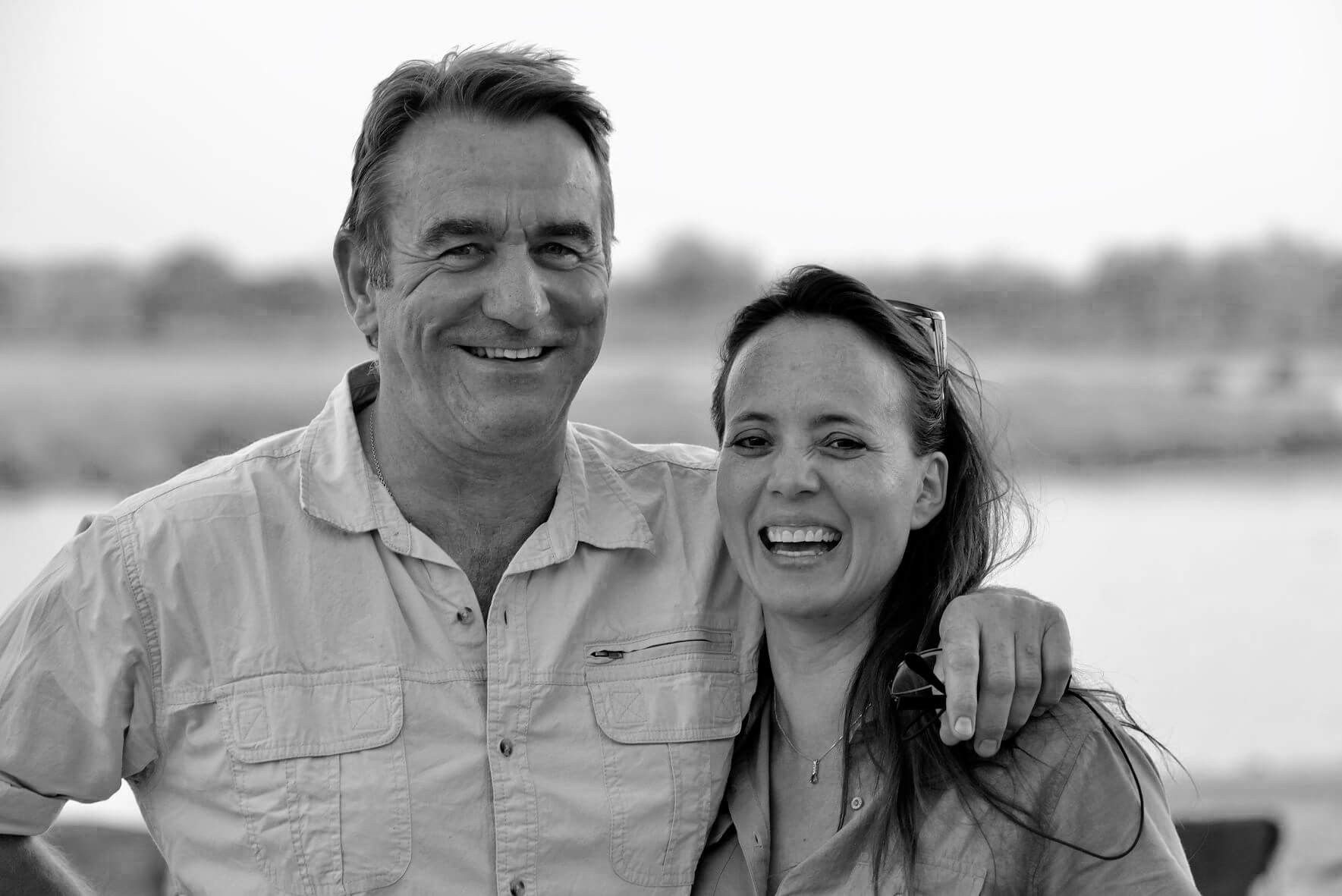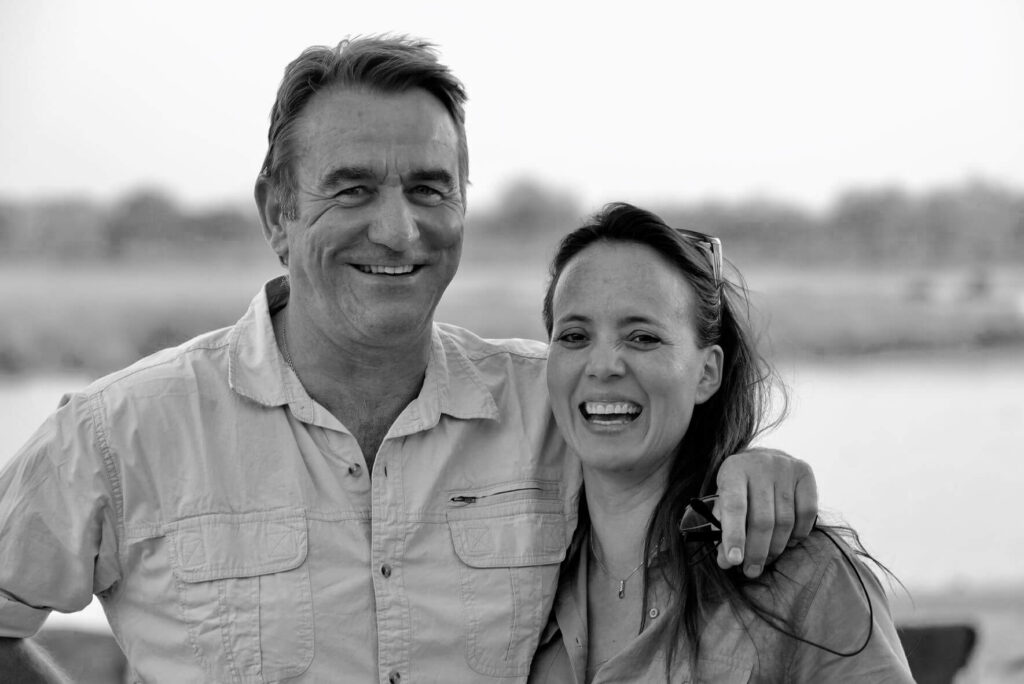 Dusty Rodgers is a seasoned entrepreneur whose passion is building lodges in remote areas. He was born in Wales and moved to Zambia with his parents at the age of five. He spent many of his childhood years along the roads and dams his father constructed in Zambia, Rhodesia and Botswana. His father built the first tar road through Botswana.
Dusty made his home in Namibia more than 25 years ago. He has spent most of his life in the bush and other rural areas, getting to know the communities where he ventures and invests. In fact, his approach to generating benefits for local communities and respecting their values and expectation has helped to shape the foundation for Namibia's network of communal conservancies. He is well-known in the Namibian tourism industry and internationally respected in his field. His ability to develop and manage lodges in the most remote areas with little or no infrastructure is not only impressive but has a widely felt social impact as he employs and trains members from local communities to first build the lodges and then work there.
Dusty was the founding member of Islands in Africa, the Caprivi Collection and more recently, African Monarch Lodges, all in the Zambezi Region (previously the Caprivi) of Namibia. Dusty has extensive knowledge of these areas, in particular the Mayuni and Mashi Conservancies but also many other conservancies in the region.
Some of the more well-known lodges Dusty built and owned were Kalizo, Impalila Island, Susuwe Island and Ntwala Island Lodge.
Tinolla, born in Gobabis in Namibia, left her home country at the age of six. Coincidentally, Tinolla's love affair for hospitality started the same year as Dusty's in 1993. Tinolla completed her 4 Year In-service Hotel Management Training with Karos Hotels and the Witwatersrand Hotel School in South Africa. Having worked and trained in both smaller, more intimate luxury lodges as well as larger hotels, she gained vast experience in both.
Her work experience includes Sir Richard Branson's Ulusaba Private Game Reserve in Sabi Sands, South Africa; Lilayi Lodge, Zambia; Islands in Africa, Namibia and the Collection of Elewana Afrika in Tanzania, Zanzibar and Kenya.

Tinolla joined Dusty's portfolio of lodges as General Manager of Islands in Africa in 2004. In 2008 she moved to East Africa with her family as Group Training & Standards Manager for Elewana Afrika. A year later Dusty sold Islands in Africa and moved to Windhoek.

Tinolla returned to Namibia with her family in August 2012. Soon afterwards Dusty asked her for help as he was about to take over The Village Courtyard Suites and Fresh 'n Wild Delicatessen in Windhoek and needed a hoteliers's hand. Tinolla spent over a year with Dusty running this business but needed to follow her dreams when she became a single mother. It is then that she established GEM Consult (Guest Experience Management), offering hands-on coaching and training on-site to all sections of the hospitality industry. Tinolla travelled all over Namibia to train and coach and she raised service standards as she connected in the most profound way with the people she trained. She implemented firm standard operating procedures and training programmes in various lodges and hotels throughout the country.

On the 16th of December 2014, Dusty sent to Tinolla a message "Do you still have your training company? I have just opened a new lodge and I need your help once again!" Tinolla took on African Monarch Lodges as a client in January 2015. Initially she consulted on training the staff recruited from the local communities at Nambwa Tented Lodge. Before her 39th birthday the client became her life partner. Tinolla helped Dusty open the last 4 suites at Nambwa in September 2015, took charge of the interior décor of the main complex and the finishing touches to the guest suites. Then they planned and built Nambwa Lagoon Camp together, which was opened in September 2016. Her love for the African Monarch brand grew and so did her love for the man who is often referred to as Captain Caprivi.

Dusty was cautious to not persuade Tinolla to give up her business even though it became his dream. This however, happened naturally when they had a close shave with a buffalo while they were showing guests around the virgin island known as Kazile, an island for which along with Nambwa, Dusty had won the tender invited by the Ministry of Environment and Tourism. While Dusty, Tinolla and their group were walking around and viewing the island, a fierce old dagga boy (old male buffalo) appeared out of nowhere and charged the small group. Guests fled in all directions, Tinolla took refuge in scraggly shrubs and watched in horror as the buffalo targeted Dusty and she almost lost the love of her life. It was at this moment that she realised she could not live a day without him. Less than 24 hours later she gave up GEM Consult and joined Dusty full time as his life partner and co-owner of African Monarch Lodges.

They opened Kazile Island Lodge on the 21st of March 2017, Namibia's Independence day. Standing side by side with their staff, they watched with pride as their first guests gently cruised down the Kwando River towards them.

Hospitality runs heavily through their veins and their love for the lodges they have established and care for brings them back to Nambwa for two weeks every month. They have a close and personal relationship with every staff member in their family, many whom have been with their companies since the early 90's.

This piece of paradise is their most tranquil and cherished place on this earth and will bring them back month after month for many years to come. It is their dream that their guests will share this feeling.