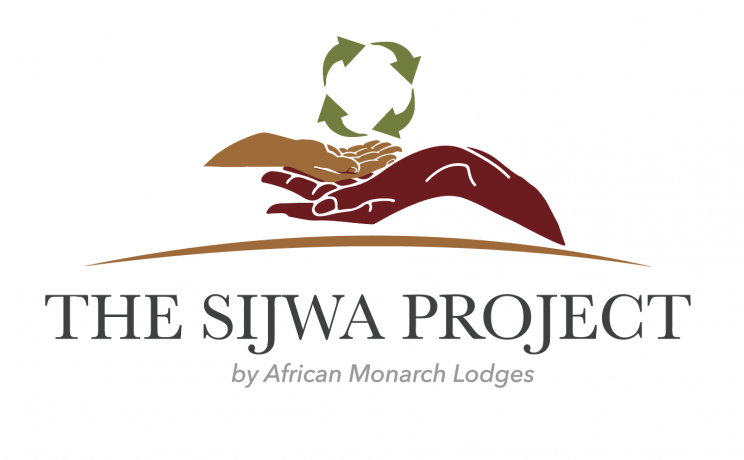 What is the Sijwa Project?
It's the re-purposing and re-inventing of all recyclable waste from the African Monarch Lodges; Nambwa Tented Lodge and Kazile Island Lodge, on the Kwando River of the Zambezi Region of Namibia, and from the local community, into exquisite saleable craft and art.
It's also an organic permaculture nursery to supply food for local people and lodge guests (mitigating the air and road miles lodge food usually travels). The sandy soil is enhanced by composted food-waste and super-strength worm juice, given a boost by the occasional dollop of elephant dung!
It's a cultural village, artisanal skills training center, a free-range egg scheme and it's an indigenous tree nursery for guests to buy and plant a tree to offset their carbon footprint, looked after by a local 'tree guardian' to ensure a better chance of survival against nibbling antelope.
A holistic balance between conservation, community, culture and commerce exists at The Sijwa Project. African Monarch Lodges, as part of their continued endeavour for their brand to be sustainable and give back to the community and conservation, launched The Sijwa Project in November 2018. It is here where guests will be entertained and enriched with local culture and can interact with the local communities while they practise their artisan skills taught at the project.  
Guests will be encouraged to walk through the permaculture plants, recycling workshops where waste such as plastic, glass and cans are turned into beautiful artefacts for sale.
The Sijwa Project has a broad vision of empowering the local community by creating jobs, preserving traditional knowledge, teaching skills and conserving the surrounding environment through a variety of proposed recycling and innovative activities.
With the highest rate of unemployment in Namibia found in the Zambezi Region, African Monarch Lodges carefully structured a project that will help address this problem through a holistic approach.  This bold project is multi-faceted and will in the end be self-sufficient.
The Sijwa Project aims to employ 60 plus community members (each member supports up to 12 others in their village) and even more if funding allows, and educate close to 182 scholars per annum from the local secondary school through its Junior Ranger School and Junior Sewing School.  8% of all monthly revenue generated at the project (entrance fees, sale of all artefacts manufactured, sale of vegetables and eggs to the lodges and surrounds and sale of garments manufactured) will be paid to the Mayuni Conservancy.
A Lot Still in the Pipeline!
Phew – a lot going on, but there's so much more planned. The Sijwa Project will be home to a Junior Ranger School, an aluminium recycling workshop to recycle all tin cans and if all wishes come true it will be home to a kindergarten, as none exists in our area.
Still to come, an innovative Beehive Project to combat the human-elephant conflict problem. Method in the madness! For example, elephants hate the buzz of bees. When the swaying hives, which will be made at the project, is strung up all around the farm are bashed by elephants' intent on crop raiding, the bees come out to investigate and the elephants soon buzz off. It's a win-win for sustainable vegetable growing, pollination and honey production, while the elephants go back to the river and eat grass. Chili-bombs are also used as a successful deterrent and consist of elephant dung infused with crushed chilies and set alight to smoke for hours – the elephants hate it!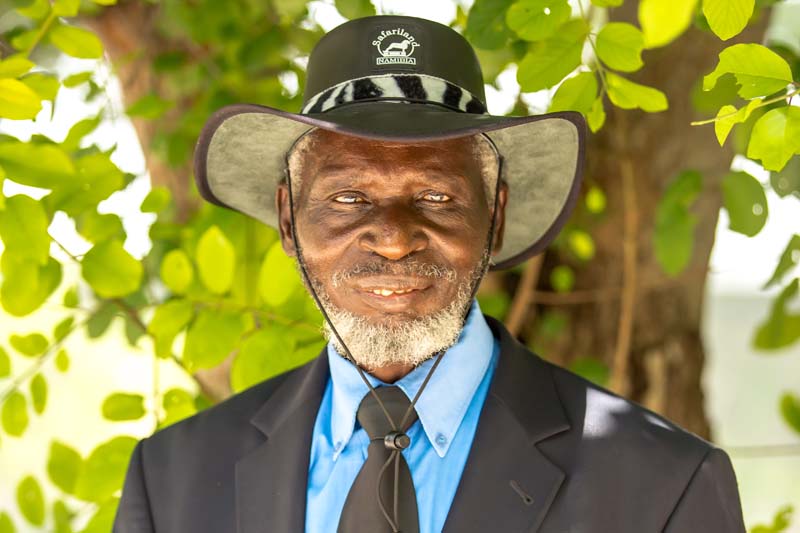 Approval and Enthusiasm from Chief Mayuni
When Chief Mayuni, an avid conservationist, learned of Tinolla and Dusty's plans he released Sijwa – a traditional meeting place within his area in the Mayuni Conservancy of Bwabwata National Park, Zambezi, in the very heart of KAZA (Kavango Zambezi Transfrontier Conservation Area) – for this joint venture with the community. After listening carefully to all the presentations, he gave his personal blessing at a large gathering of dignitaries, international media and conservation role players on 17 November 2018 at Sijwa.
With a surplus of passion in everything they put their minds to, Tinolla and Dusty demonstrate a 'go big or go home!' kind of attitude and the Sijwa Project is no exception! The Sijwa Project opened its doors to its first guests in January 2020, at the time only showcasing the Permaculture Centre and the cultural Village.
Chief Mayuni visited the project in February 2021 and was amazed at what had been accomplished especially during the Covid pandemic period in 2020. Members from his communities were recruited and received artisanal skills training during a time when it was least expected.
Culture is a connection for society; it is a bonding vehicle, enabling expression and collective responsibility.

The Sijwa Project is home to a Cultural Village which employees 15 community members who showcase their collective pride and identity through dancing, singing and the story telling of their culture and history.    Our guests will meander along the Kwando River by boat from the Lodges to The Sijwa Project, where the Sijwa host will guide them through their Sijwa Experience.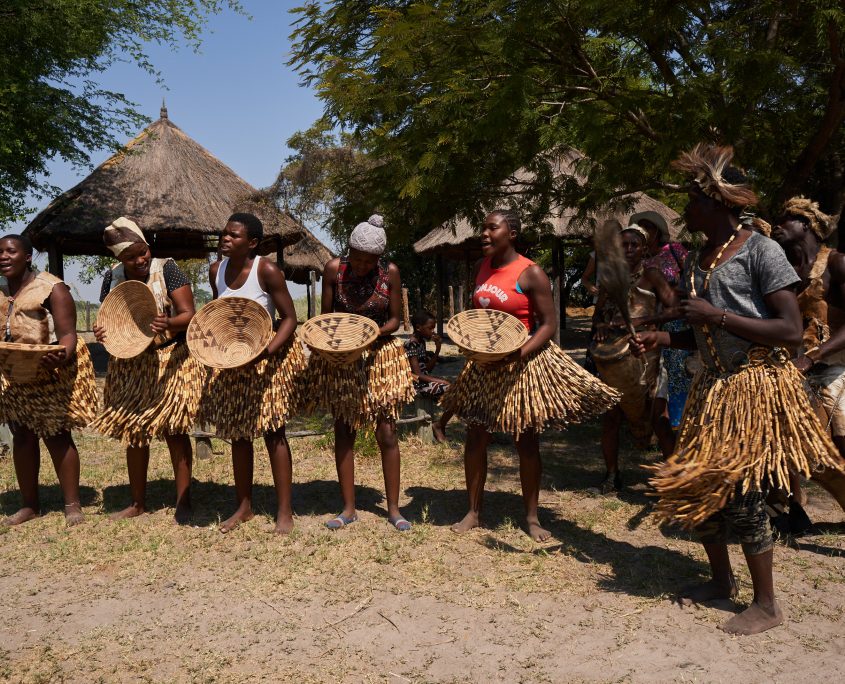 How You Can Help the Many Facets of The Sijwa Project
We at African Monarch Lodges, through this diverse initiative, have created renowned guest experiences through intuitive moments of contact with our people. We are developing artisan skills and enriching the lives of our youth and our community whilst protecting the habitat and respecting nature's course. We trust that you will feel our passion and enthusiasm for the success of The Sijwa Project and would help us achieve the full potential for this remote part of Namibia. We would appreciate any form of support.
We thank you for selecting to stay at our African Monarch Lodges, as your stay makes an enormous difference within the local community through our monthly contributions as a Joint Venture Partner with the Mayuni and Mashi Conservancies.
Once we have completed the various projects and workshops as initially envisioned for The Sijwa Project, we will embark on bringing to fruition a dream voiced by Honourable Chief Mayuni which will fulfill a vital component to our community:
PROJECT 7: PRE-SCHOOL & LIBRARY
The Zambezi Region and more specifically the Kongola region and our two conservancies do not have a pre-school for the development of children and to get them school ready.
We will build a pre-school with all the relevant equipment
We will build a library for all children living in this area to have access to
Donations could include school books, age appropriate reading books, colouring books, crayons, thick pencils, scissors, play dough, clay, paint etc
A library will make a fundamental difference to the scholars and adults within our two conservancies.
         
           Estimated Cost/Budget = N$750,000
The Sijwa Project,
Standard Bank, Namibia,
Acc: 60003912069,
Branch: Windhoek,
Branch Code: 082372,
Swift Code: SBNMNANX
Please use the selected facet of the Sijwa Project you would like to donate to as a reference:
Project 1: Transport Vehicle for the Children of the Junior Ranger & Junior Sewing School
Project 2: Permaculture Centre
Project 3: Elephant Friendly Beehive Project
Project 4: Tree Nursery for the offset of carbon emissions
Project 5: Aluminium Recycling Workshop
Project 6: Junior Ranger School
Project 7: Pre-school & Library